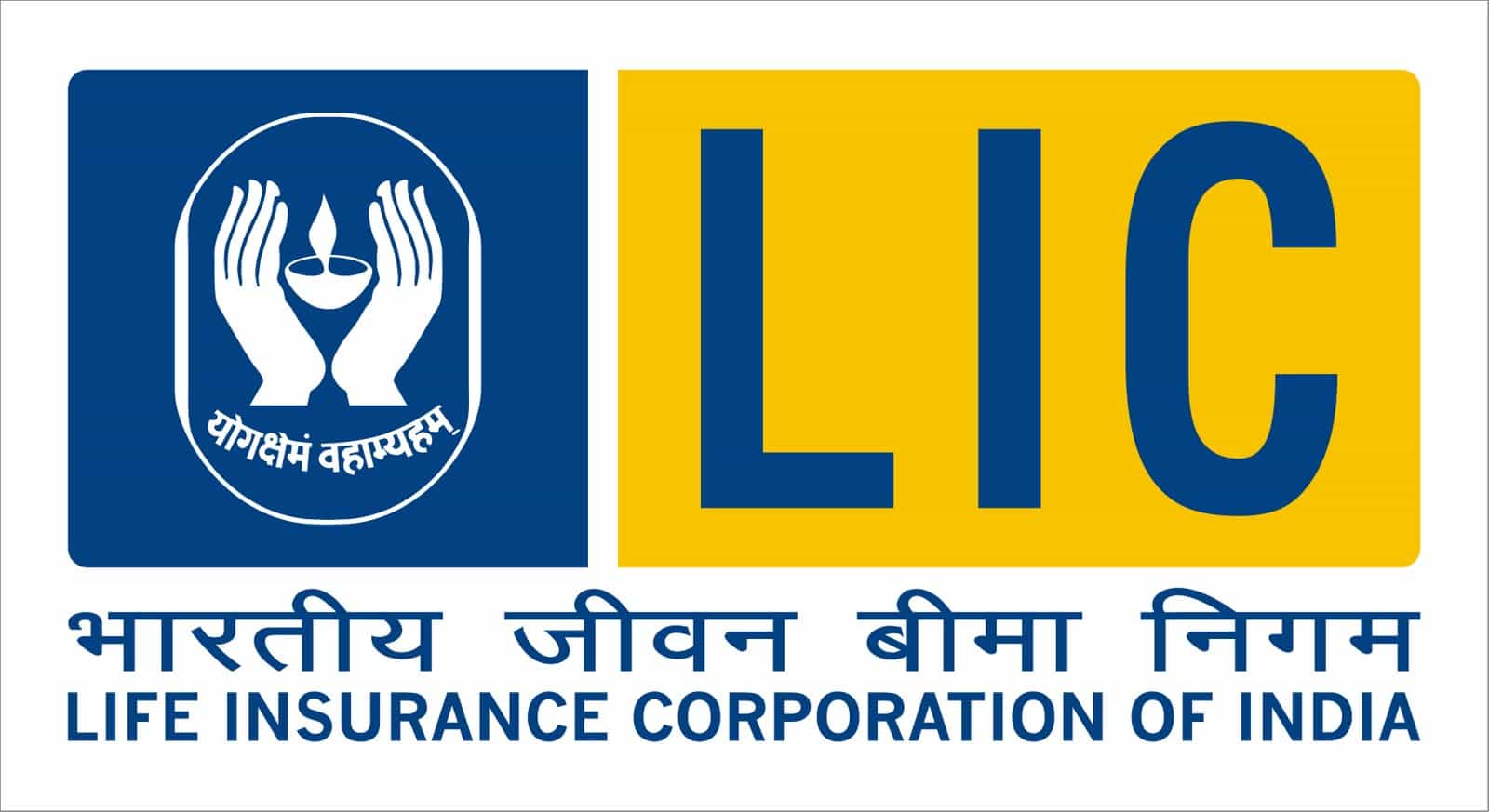 LIC one of Best Plan LIC JEEVAN LABH. If you believe only in LIC then Jeevan Labh is one of Best Plan in LIC. Bonus rates etc.. are very attractive. Very important that Limited premium option will give you more benefits.
LIC Jeevan Labh – In Short
LIC Jeevan labh is a non linked, limited premium, with profit endowment assurance plan. The limited premium feature in this plan lets you chose among 3 variants of Policy terms, and corresponding Premium paying terms. Available Policy terms are 16, 21 and 25 years, and premium paying terms are 10, 15 and 16 respectively.
Once you decide on which policy term you want to invest in for, you will be intimated with the premium you have to pay, which further depends on age of the person to be insured and sum assured opted for.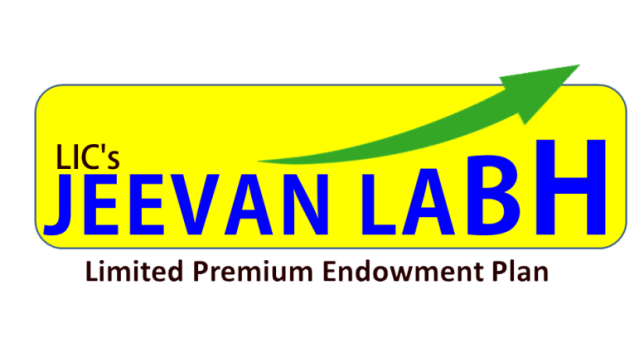 You keep paying the premiums for defined premium paying term, and stay invested till policy term, then you will get maturity benefit as Sum assured plus all accrued reversionary bonuses and final additional bonus ( If any). Unfortunately if you die before completion of policy term, then your policy nominee will receive the Sum assured plus all accrued reversionary bonuses.
If your policy premium is 10% or less of the policy sum assured then your premiums are eligible to be claimed under section 80C benefit and also the maturity amount you get will be tax free u/s 10(10)d.
LIC Jeevan Labh – Basic features
Minimum Entry Age – 8 years
Maximum Entry age – 59 years
Maximum Maturity age – 75 years
Minimum Sum assured – Rs 2 lakh
Maximum Sum assured – No Limit
Policy terms (Years) – 16, 21 and 25
Premium Paying Terms (Years) – 10,15 and 16
LIC Jeevan Labh – Other additional Features
This policy provides one optional rider as Accidental death and disability benefit, by payment of additional premium. If opted, the total basic sum assured on accidental death will get doubled and in case of permanent total disability (due to accident), all future premiums will be waived and sum assured equivalent amount will be distributed in 10 monthly installments.
There's also option for term insurance rider, which one opts for at the time of policy buying. This will increase the death benefit with the sum assured opted for, under term insurance rider.
Loan facility is also available in this plan subject to few conditions.
Discounts on Premiums are available on different Premium payment modes and on high sum assured.
LIC Jeevan Labh – Returns review
Let's analyse the illustrations provided on LIC website to figure out the tentative returns from LIC Jeevan labh. Since this is an endowment plan which invests only into debt instruments, so we can't expect equity like returns in this product. IRDA has also stipulated to show the illustrations with 4% and 8% returns.
On maturity, insured will get sum assured plus simple reversionary bonus plus final additional bonus. Simple reversionary bonus is declared every year, and depends on the corporation's overall performance in that particular year. The bonus rate varies with different policies and term with in the policy.
The above illustration is for 30 years old person , who opted for 25 years policy term with 16 years of Premium payment term. For sum assured Rs 2 lakh the premium comes out to be Rs 9134 (exclusive of service tax).
On Maturity the policy holder is expected to get Rs 220000 (@4%) and Rs 370000 (@8%). Premium has to be paid for 16 years and policy will be matured after 25 years. Calculating IRR as per the data , it comes out as 2.33% and 5.28% respectively. It will reduce further when Service tax is added to the Premium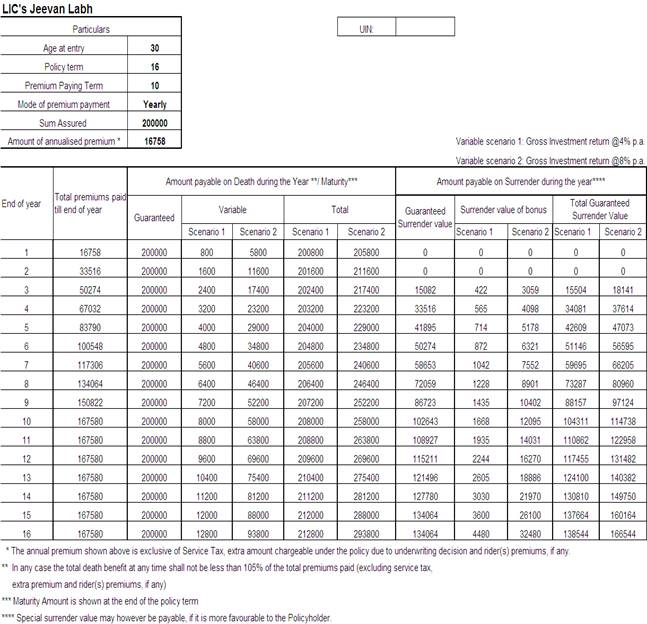 The above illustrations is for 30 years old, with 10 years premium paying term and 16 years policy term. IRR comes out to be as 2.08% (@4%) and 4.91% (@8%). Returns will further reduce when Service tax added to premiums.
The actual returns of the policy may vary. Even the previous bonus rates of LIC policies are better than shown in illustrations. But still one should not expect much of difference, being a debt product.
LIC Jeevan Labh – Should you invest?
Well, first thing first, getting adequate insurance cover from endowment policy will prove very costly to you. So you have to buy Term Insurance if you want to have good coverage. Thus, the buying insurance through this product is out of question here.
Looking at the expected returns, if you are happy with 5-6% of annualized returns then yes this policy is for you. But do remember that the return will be less for aged investors as the mortality costs will be high, but also returns will improve slightly for those who claim tax benefit u/s 80C.
Whether the policy work for you or not will depend on your age, your risk profile, your cash flow, your other investments and insurance coverage, your Required Asset Allocation and goals targeted. There cannot be a simple yes or no to this. No product is good or bad, it's the usage and fitting of that product into the financial plan which makes it useful.
On the face of it since it is a lock in product, with no re-balancing feature and no control on managing the funds, with unnecessary insurance cost ( as term plans are already bought), so I advise not to invest just because it is from LIC. I have always been advising to keep Insurance and Investments separate, as i find the structure easy to manage.
Do the maths, understand it's usefulness in your financial profile, look at your finances holistically and then decide.
More call or whatsapp @ 9891423442 or visit www.agindiaonline.com